Elisha Lynn McArthur began playing violin at the age of six. She meddled in many instruments growing up, though violin remained her mainstay and voice her passion.
Elisha began taking voice lessons at twelve years old, intent on pursuing a career in opera. At the age of fifteen, Elisha sang with the Santa Fe Opera in their production of Benjamin Britten's "Noye's Fludde."
Though classically trained, Elisha fell in Love with the world of folk music in her late teens, and picked up guitar to facilitate her songwriting in a more mobil manner than piano!
Just before she turned twenty, Elisha moved to Scotland, UK where she spent nearly two years studying traditional Celtic music.
Upon returning to the US, she spent the next eight years as a Celtic duo called SPROUT. Elisha toured the west extensively as SPROUT, spending nearly three of those years full time on the road.
After taking some time off of music to engage in the creative journey of motherhood, Elisha is back on the gigging circuit as the solo artist ELM. This time though, Elisha is once again stepping out side of her previous musical confines & exploring new horizons!
Still true to her passion for Celtic music, much of what she plays has very strong Celtic roots, though she also plays much American folk, original pieces, modern covers, as well as songs from other cultures & times.
A career raft guide, Elisha's other passion is Rivers, and you are likely to hear many a River song passing her lips on it's way from her heart to the always near by rolling River waves…
Elisha lives in Salida, CO with her wonderful man Alan, beautiful daughter Charlotte, and three large, lovable dogs.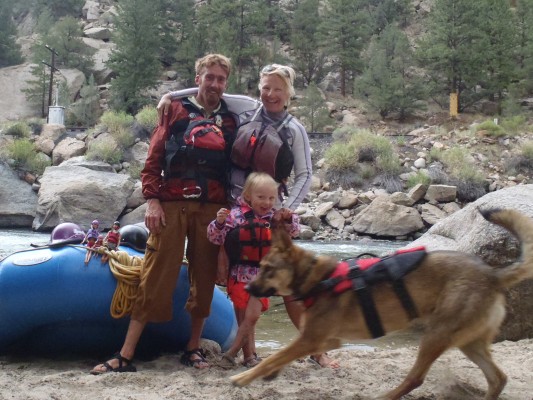 Alan, Elisha, Charlotte (and Goji, on the go!) Arkansas River, CO 2012